When faced with plumbing issues at home or in a commercial setting, it is crucial to hire reliable and skilled plumbing services. However, with numerous companies offering their services, it can be challenging to determine which one is the right fit for your needs.
To ensure you make an informed decision, it's essential to ask the right questions before hiring plumbing services. By doing so, you can assess their expertise, reliability, and professionalism.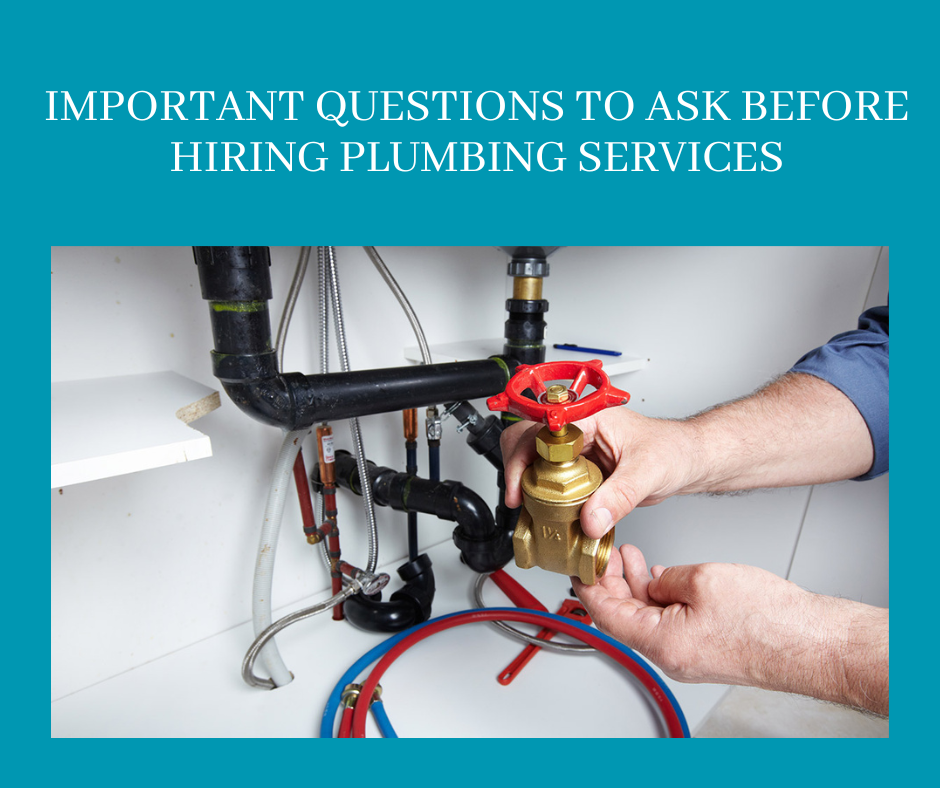 In this article, we will discuss the key questions you should ask when considering hiring plumbing services.
Are you licensed and insured?
Start by verifying if the plumbing repair service holds the necessary licenses and insurance required by your state or local authorities. A licensed plumber ensures that the individual or company has met specific standards and possesses the required knowledge and skills. Additionally, insurance coverage protects both you and the plumber in case of any accidents or damages that may occur during the repair process.
How much experience do you have?
Experience plays a vital role in the plumbing industry. Inquire about the company's or plumber's experience in handling similar plumbing issues. A well-established plumbing repair service with a proven track record is more likely to deliver quality workmanship and effectively troubleshoot complex problems.
Can you provide references or customer testimonials?
Requesting references or testimonials from previous clients gives you an insight into the plumbing repair service's reputation and customer satisfaction. Reach out to the references provided and ask about the quality of work, reliability, and overall experience with the plumbing service. Positive feedback from past customers is a good indication of a reputable and trustworthy service provider.
What services do you offer?
Ensure that the plumbing repair service you are considering offers the specific services you require. Some companies may specialize in certain areas, such as residential plumbing, commercial plumbing, or specific types of repairs. By clarifying their service offerings, you can determine if they are equipped to handle your plumbing issue effectively.
Do you provide emergency services?
Plumbing emergencies can occur at any time, and having access to prompt assistance is crucial to minimize potential damage. Inquire about the plumbing repair service's availability for emergencies, including after-hours, weekends, and holidays. Knowing that they can provide immediate assistance when needed gives you peace of mind and ensures the problem can be resolved swiftly.
What are your pricing and payment policies?
Discuss the pricing structure and payment policies upfront to avoid any surprises later. Ask for a detailed estimate for the repair work, including labor costs, materials, and any additional charges. It's also essential to inquire about their preferred payment methods and the expected timeline for payment completion.
Are your plumbers certified or trained?
A reputable plumbing repair service invests in the ongoing training and certification of its plumbers. Ask about the qualifications and certifications of the plumbers who will be handling your project. Trained and certified plumbers are more likely to possess up-to-date knowledge of industry standards and employ best practices during the repair process.
Do you offer any warranties or guarantees?
A reliable plumbing repair service stands behind its work and offers warranties or guarantees on its services and parts used. Inquire about their warranty policy and the duration of coverage. Having a warranty ensures that you can seek recourse if any issues arise after the repair is completed.
How do you handle unexpected complications or changes during the repair process?
Plumbing repairs can sometimes uncover unexpected complications or require changes to the initial plan. Inquire about how the plumbing repair service handles such situations. Understanding their approach to unforeseen issues will help you gauge their flexibility, problem-solving skills, and ability to adapt to changes.
Everest Mechanical – One-stop shop for all your plumbing needs
Everest Mechanical is a highly reliable and trusted plumbing service provider in Colorado that has built a strong reputation for excellence. With our extensive experience in the industry, we have consistently delivered top-notch plumbing repairs and services.
Our team of licensed and certified plumbers ensures that every project is handled with the utmost professionalism and expertise. Everest Mechanical is known for its prompt response times, attention to detail, and commitment to customer satisfaction.
We offer a wide range of services, from residential to commercial plumbing, and our dedication to quality workmanship and customer care makes us a preferred choice for any plumbing repair needs. We provide services in Arvada, Estes Park, Boulder, Fort Collins, Longmont, Denver, and nearby regions.
Conclusion
Hiring the right plumbing services is crucial for resolving plumbing issues effectively and efficiently. By asking the questions outlined in this article, you can assess the qualifications, reliability, and professionalism of potential plumbing service providers. Taking the time to gather this information will help you make an informed decision and ensure that your plumbing repairs are handled by competent professionals.
For all your plumbing needs, contact Everest Mechanical now.