Furnace Repair and Installation Services
The temperature during winters in Colorado can go below 30o F. This freezing cold can cause serious issues to both humans as well machinery. A properly working furnace in the home can make your stay comfortable. But if the furnace stops working, then it not only makes your stay within your home uncomfortable but can also damage the building's pipelines. Everest Mechanical helps to keep a check on your furnace and do furnace repairs and furnace installation so that you can enjoy winter in your home comfortably.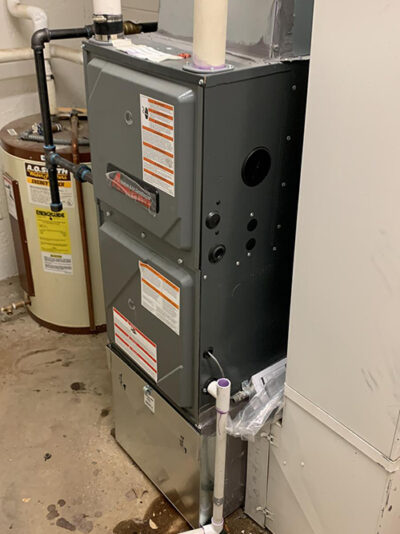 WHY IS FURNACE MAINTENANCE AND REPAIR IMPORTANT?
The furnace can be considered the most important heating equipment during winter in Colorado. It maintains optimum temperature in the home so that humans and other things in the home are safe. But a furnace will not look for your convenient time to break down and can stop working anytime. A furnace breakdown during winter nights and spending the whole night in freezing cold can be the worst thing to imagine. Proper maintenance and timely repair ensure your winter is pleasant. Everest mechanical is a professional HVAC services company to help you maintain, repair, and even install new furnace systems in your home.
Signs that you need Furnace Repair
There are several reasons that can cause furnace damage. A furnace consists of a gas pipeline and ignition system, motors, sensors, vents, flow mechanism, and many other things. Simple damage to any of these parts can cause damage to the whole furnace and eventually to other equipment in homes. You can detect early signs of damage by paying little attention to the working of the furnace in your home. If you notice any of the following things, then it means your furnace is in trouble and needs either repair or replacement.
1. The unusual smell from the furnace – A hard odor is normal during the first use of the furnace in a season. But the odor fades away gradually. If the odor persists that it may be a sign that there is a gas leak or blockage in the vents. In that case, contact a technician for an inspection of the furnace system is recommended.
2. The abnormal temperature of air coming out from the vent – If the air is not getting warmer enough or comes completely cold then there is an issue.
3. Starting problem and abnormal shutting down – does your furnace take time to start or doesn't start normally? Or does it abruptly shut down automatically? Then you need to repair the furnace. Some other signs include inadequate airflow, poor air quality, short cycling, etc. If you pay attention closely, you can easily diagnose the problem and then contact HVAC services like Everest Mechanical.
Would you go for Furnace repair or a new Furnace installation?
The average lifespan of a branded furnace system is approximately 15 years. And with proper usage, timely repair, and good maintenance, it can last even longer. So if you have a furnace that was recently bought or if it is not so old and not giving many problems, then repairing can be a good option.
Well, it doesn't necessarily mean that a not-so-old furnace doesn't require replacement and you can use it for 15 years or more without any worry. While the furnace system is warranted by the company for a certain period of time, any manufacturing defect can cause serious issues leading to replacement.
If the repair cost of your furnace is exceeding 50% of the price of a new furnace, then it's better to get a new one. Also, if your furnace is breaking down frequently, incurring high energy bills, and requires frequent repairs that adds cost to your budget, then it is better to replace the furnace.
We recommend contacting expert technicians from Everest mechanical who can do a thorough check of your furnace, get to the core of the problem and suggest what's best on your budget, whether to repair the furnace or go for a new furnace installation.
Everest Mechanical for Furnace repair and furnace installation
Everest Mechanical is one of the best furnace repair and furnace installation service providers in Colorado. Our 100% client satisfaction rate can be seen in Google reviews. Whether you want a warrantied furnace repair or want to replace and go for a new furnace installation, Everest Mechanical is the best HVAC service to go for.
Why choose Everest Mechanical for your furnace repair or installation?
Our experience, trained and certified technicians made us who we are. We are the most reliable heating and air-conditioning service provider in Colorado. Having our agency certified for quality, we ensure we provide the best service to our clients. Moreover, an annual maintenance contract and warrantied service help you to rest assured about the proper functioning of your furnace.
Contact Us
Having experienced teams spread across the state, Everest Mechanical is ready to serve you anytime and anywhere in Colorado. Denver, Longmont, Fort Collins, Boulder, Estes Park, Arvada, or any nearby areas, we serve it all. Available at your service 24x7, you can schedule a visit or request urgent service for furnace repair or furnace installation in Colorado. Simply fill out the request form appearing on your screen or click here.