The boiler is one of the most important heating equipment when it comes to spending winters in Colorado. A well-set-up boiler system with proper pipeline settings ensures you get a hot water supply whenever you want. But your worst nightmare can come true when you realize your water boiler has stopped working in the chilly winters of Colorado. You will have two options, either you can take out your frustration on someone else or contact Everest Mechanical to get the water boiler fixed. While we don't recommend the first option, opting for the second one can help pass your winter season comfortably.
WHY IS BOILER MAINTENANCE AND REPAIR IMPORTANT?
It is needless to say how troublesome the lower temperatures in Colorado can get. The 27o F temperature freezes literally everything and water is the first thing to do so. Water boilers are small but effective equipment to provide you with a continuous supply of warm and usable water. Without water, you can't even imagine life. Therefore it is very important that you ensure your water boiler is working properly. Contact expert technicians from Everest Mechanical for proper Maintenance, get it repaired if there is any fault, or install a new boiler if your old one is no longer usable.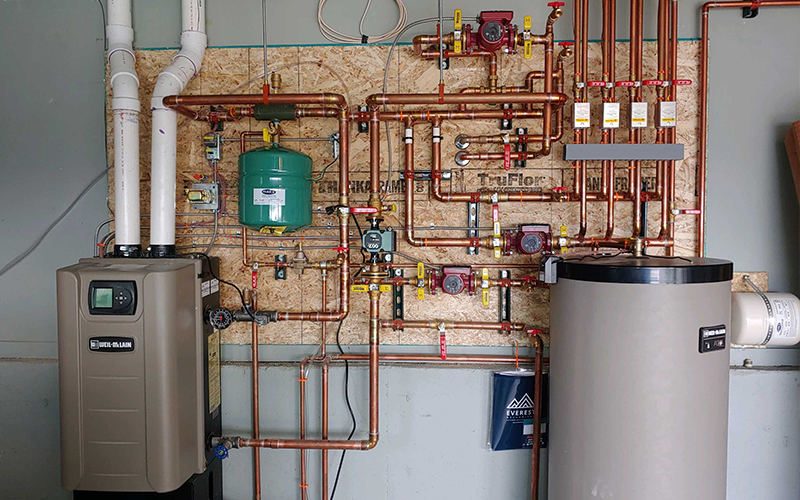 Boiler Repair Service
Breaking down boilers in winter is a common scenario. A huge proportion of water boilers, be it residential or commercial buildings, need repair or replacement. Also, it becomes a matter of urgency to get the boilers repaired or replaced during harsh weather conditions. So getting this stuff repaired or replaced on time becomes necessary. Also the repair should be done instantly, with an assurance that there would be no more problems with the equipment at least for the current season.
When do you realize your boiler needs repair?
Every boiler gives its sign of repair very early. If you are smart enough you will realize your water boiler needs repair. Here are a few signs that you must pay attention to that can help you avoid any serious damage to the boiler:
• Water leakage – A water leakage from a boiler can sound like a very common issue. But few people realize it can lead to corrosion and damage the entire system. Water leakage is caused by broken seals, improper installation, damaged valves, etc. So if the boiler is leaking, you must get it checked by a professional technician.
• Unusual smell – You can experience a variety of smells coming out from the boilers. Some damaged boilers provide a perfect place for shelter bacteria causing the emission of smells like rotten eggs. Whereas some smell of butane or propane gas notifies about gas leakage which can be dangerous.
• Water not getting hot on time – sometimes water may not get warm enough at its usual time or may not heat up at all. This means the heating elements of the boiler had stopped working.
There are many other such issues that imply the boiler needs repair. Boilers shut down automatically, water not heating enough, unusual sounds from the boiler, and increased energy bills are all signs that your boiler needs a repair.
Would you go for a Water boiler repair or a new water boiler installation?
Whether you need to repair or replace your water boiler depends on a number of factors. A thorough examination from the expert technicians from Everest Mechanical will give you a report on
• What is the exact problem with the boiler?
• The intensity of damage
• How long can the boiler be used?
• Whether any part of the boiler or the entire boiler needs replacement?
• What would be the cost of repairing the boiler and the cost of a new boiler installation?
• Whether repairing or replacing the boiler will be a good option, etc.
The expert mechanics from Everest mechanical will look into all these factors and suggest what's best for you depending on your budget.
Everest Mechanical for Water boiler repair and boiler installation
Everest Mechanical has been serving in the HVAC industry in Colorado for a long time and has gained the reputation of being a trusted brand for heating and air condition services. Everest Mechanical is a reliable, cost-efficient, and best HVAC company for residential and commercial buildings.
Why choose Everest Mechanical for boiler repair and installation?
While we boost our 100% client satisfaction rate, the major reasons why you can rely on Everest Mechanical is:
• Our trained, certified, and experienced technicians can get to the core and repair all types of boiler issues
• Certified HVAC company
• Cost-effective
• Free cost estimation
• Annual Maintenance contract to make your equipment run throughout the year without any problem
Contact Us
We have a presence all over Colorado and we have dedicated teams serving different areas in Colorado including Denver, Longmont, Arvada, Fort Collins, Estes Park, and the nearby areas. For all your boiler repair and installation needs, our team can reach you within minutes. So request your service now.