We are thrilled to announce that Everest Mechanical, a leading HVAC service provider based in Colorado, has been awarded the honor of being a winner in the Colorado Companies to Watch (CCTW) program for 2023.
This recognition highlights the company's dedication to excellence, innovation, and outstanding contributions to Colorado's business landscape. As a trusted provider in the construction and service space in the areas of HVAC, Refrigeration and plumbing services, Everest Mechanical has consistently demonstrated its commitment to customer satisfaction and industry-leading expertise.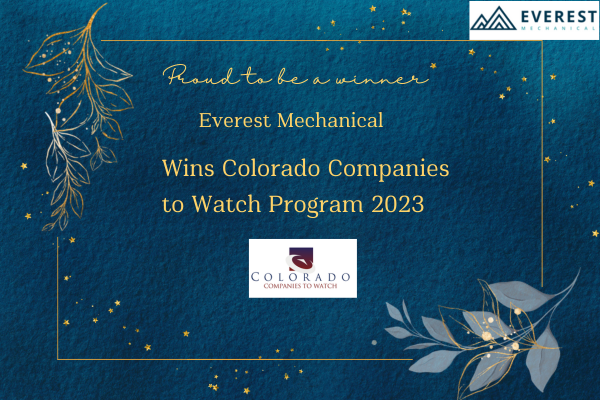 What is Colorado Companies to Watch Program?
The Colorado Companies to Watch (CCTW) program is an initiative that recognizes and celebrates dynamic and innovative businesses in Colorado. It is an annual awards program organized by the Colorado Office of Economic Development and International Trade (OEDIT) and the Edward Lowe Foundation.
The CCTW program aims to identify and honor small and medium-sized companies in Colorado that demonstrate high growth potential, innovative products or services, exceptional leadership, and significant economic impact. These companies are considered to be driving economic growth and making a positive impact on the state's business community.
Exceptional HVAC and Plumbing Services
Everest Mechanical stands as an example of a company that delivers top-notch HVAC, Refrigeration and Plumbing solutions to residential and commercial clients across the Front Range and Estes Park. Our services include AC repair and installation, water heater and boiler repair and installation, furnace repair and installation, professional plumbing services, drain cleaning, and bathroom remodeling services. With a team of highly trained, skilled, and certified technicians, Everest Mechanical ensures that every job is executed with precision and professionalism.
Unwavering Commitment to Customer Satisfaction
What sets Everest Mechanical apart is its commitment to providing exceptional customer service. Understanding the importance of comfort, safety, and efficiency in homes and businesses, the company goes above and beyond to address each client's unique needs. Whether it's a quick AC repair during scorching summer months or a complex plumbing issue that requires immediate attention, Everest Mechanical's team is responsive, reliable, and dedicated to resolving problems promptly.
Skilled Workforce and Industry Expertise
Everest Mechanical takes pride in its highly trained and skilled workforce, consisting of technicians who possess extensive knowledge and expertise in HVAC and Refrigeration systems and plumbing services. The company invests in ongoing training and certifications to stay up-to-date with the latest industry trends, technologies, and best practices. This commitment to professional development ensures that customers benefit from exposure to new innovations and solutions available.
Everest Mechanical's recognition as one of 50 winners out of a group of over approximately 1,200 companies that were selected for the Colorado Companies to Watch program for 2023 is a testament to our exceptional HVAC, Refrigeration and Plumbing services, a commitment to customer satisfaction, our skilled workforce, and contribution to Colorado's business community. As a leading provider of HVAC services, Everest Mechanical strives to set the standard for excellence in the industry. With our dedication to innovation and unwavering focus on customer needs, Everest Mechanical is poised to achieve even greater heights in the years to come.